Hygint–
the innovative pharmaceutical company

Our work is centred on patient well-being and customer satisfaction. To achieve these objectives we are in close cooperation with our customers and maintain a partnership-oriented relationship to them. The great value we place on open channels of communication and commitment to customer focus is well appreciated by our customers.

Our personnel constitute our most important capital, and they are the foundation of our success. We support their continuous development and make every effort to provide a cooperative working environment. Our competitiveness is based on the competence and efforts of our staff. We are convinced that only with highly motivated and engaged people we can develop high-value products and offer creative services to our customers.

Hygint combines tradition and innovation under one roof. As an innovative pharmaceutical company we set highest Swiss standards of quality for our products and services. Thanks to pioneering research and advanced technology we are in a position to continuously improve our product range. Our main emphasis is put on our galenic research (research in administrative form) in our company. We invest in improving the effectiveness of proven active substances and create added value for the benefit of the patients.
Pravotin launch
100 mg Bovine lactoferrin (bLf), an iron-binding glycoprotein, structurally and chemically similar to serum transferrin, its affinity for iron is 300 times higher than that of transferrin. B. lactoferrin is a single chain polypeptides of about 80-KDa, containing 1-4 glycans and consists of 689 amino acids. It is shown to be relatively resistant to proteolysis in the gastrointestinal tract.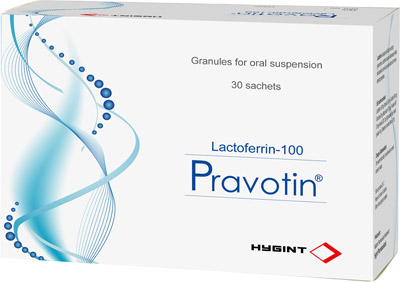 Hygint is committed to continuous innovation for the well-being of all who put their trust in our products. It's all about building a company with one mission, to fight for what is essential: Your health Because Health Matter. As a result of the constantly changing market requirements one of Hygint priorities is the further development and improvement of its steadily growing range of productsby its own developments.
Commitment for better health, believe in our mission, focus on your values, communication to reach you on time and patent satisfaction is real profits.
Nervagab launch
Each hard gelatin capsule contains 75 mg
Pregablin for treatment of treatment of neuropathies and polyneuropathies.